UI copy style guide | Campaign Monitor
After establishing UX writing as part of the product development life cycle, my team was occasionally overwhelmed with requests for copy reviews. This lead to authoring the company's first UI copy style guide, which is now part of the Campaign Monitor Design System.
CHALLENGE
At the time, I was leading a team of 2 technical writers servicing 6 product teams.
Our primary responsibility was authoring long-form user guides, but having taken on UI copy — and seeing how effective it can be at preventing issues upstream — I felt determined to maintain ownership, and introduce standards.
MY ROLE
Project lead

UX writer

Style guide co-author
PROCESS
Twice a year we were given 24 hours for Change Day; an opportunity to work on passion projects. I used one of these to produce the first version of the UI copy style guide. With limited time to produce something useful, the initial focus was on copy errors we'd see repeated the most. For example, when to write "log in" versus "login", as well as rules on formatting for dates and numbers.
Version 1 was just a nicely formatted Google Doc (see the screenshots above), and it remained that way for at least 12 months. Later, a very talented colleague of mine coded it up in React so it could be merged with the rest of the design system site, which is still an internal-facing resource, for now.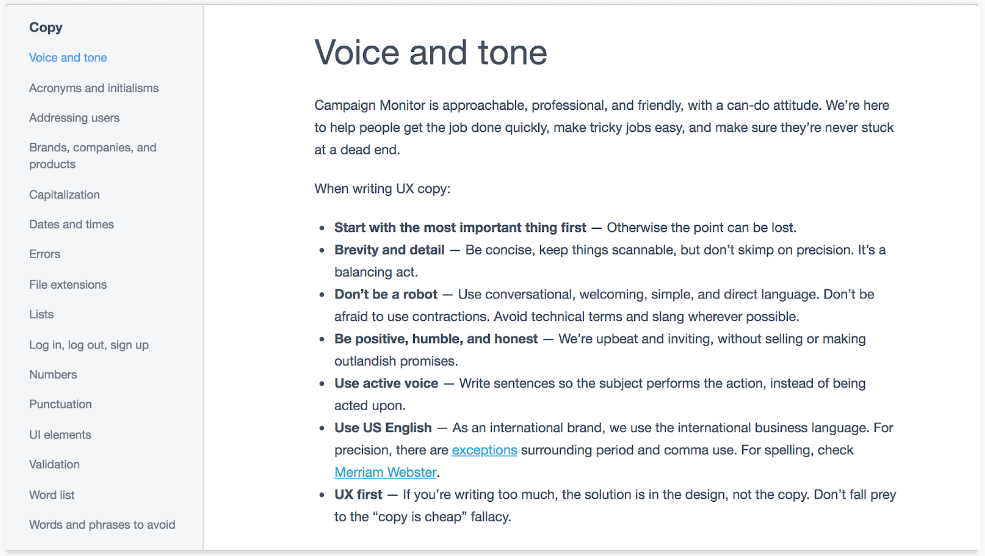 Campaign Monitor's Design System is not publicly visible, but you can see some screenshots of my team's work. [View the PDF]
Carlee is highly detail-oriented and self-motivated. She actively challenges ideas, presents compelling arguments, and cares about the customer experience. I admire her ability to "look ahead" and make decisions for scalability and reliability in the long run, over fixating on quick wins.
Ros Hodgekiss | CX Programs Manager, Campaign Monitor
The high quality she standardised at Campaign Monitor for UX writing, be it for support material or user interface copy, helped it grow to become a company known for its great customer experience.
Helena Lu | Senior Product Designer, Atlassian